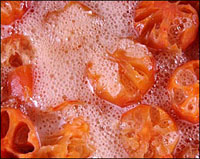 Matum fruit boiling in a sugar syrup at Auntie Matum's house on Soi Matum in Bangkok
Photography by Rolf Lambert and
Bernd Ghirrbach of Along Mekong Productions
Image Copyright AMP, Along Mekong Productions,
Heidelberg, Germany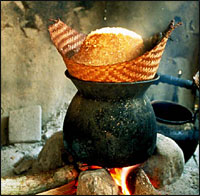 Lao Sticky rice Rice in a village northern Lao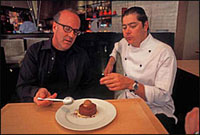 Greg Bunt Aqua's original chef and I talking his
Scharffen berger chocolate cake
Image © Michael Wolf/Laif

Dim Sum in my Central HK neighborhood
Image © Michael Wolf/Laif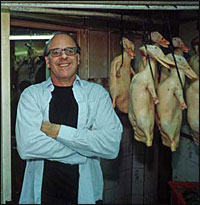 Ducks ready for the Chinese BBQ treatment
central market, Hong Kong
Image © Michael Wolf/Laif
Food Hunting is not just about daring, outward-bound, gung-ho jaunts into regions where tourists fear to tread.

Collected samples require tasting, recipe testing and assessment for practical use. Questions I must ask himself are: Does the ingredient in question travel well? How can the original flavour best be preserved? In what form would it best be presented to chefs and consumers.

Some answers are simply a matter of pure science but tasting and experimenting in a kitchen is work that I must do for myself. This can involve hours of stirring, steaming, and sipping at the stove while I use some creative imagination to try and work out how a potential new product will react under different cooking conditions and in combination with other foods.

It's hard work but it's also a lot of fun and I always benefit greatly by gaining a full understanding of the ingredient in question… knowledge I can pass on to cooks and customers.
The Hue Chicken
I first ate Hue Chicken while researching the cuisine of Vietnam's ancient imperial capital. I was with Mme. Hui, a tremendous cook, teacher, cookbook writer and all-round wonderful person.

I was really impressed — extremely juicy, great deep flavors of the chicken, infused with clove, lemongrass, cinnamon, and anise. This was a unique combination of flavors-almost "Christmas spices" in a savory and very vibrant dish. I detected some marinade performing its magic.

I quickly quizzed the cook and discovered the dish's highly individual taste was produced by a "perfume wine". Hue Chicken is a recipe developed for the last Emperor Tu Duc who was very serious about the food of his royal court. The "wine", a great combination of a village rice vodka is infused for months with fire-roasted spices. The spices are rested on cool ground before being added to the village rice vodka.

The dish includes lemongrass, fresh red chilli, fresh coriander, and nuoc mam, the ubiquitous fermented fish sauce that enhances a great deal of Vietnamese cuisine.

FoodHunter Recipe
THE HUE CHICKEN

Ingredients
1 chicken, jointed.
1 small fresh red chili
1 stalk lemon grass
2 cloves garlic
2 tablespoons of perfume wine — alternative? a potent Sake, and a pinch of each, star anise, cinnamon, anise seed, black cardamom, and cloves
1 tablespoon of nuoc mam — alternative? None
1 pinch of sea salt
1/2 cup of chicken stock
2 tablespoons fresh coriander

Method
Marinade chicken pieces in the perfume wine for 20 minutes
Sauté chicken until light brown,
Add chilli, garlic, lemongrass, fish sauce, and a pinch of salt and sugar
Add half a cup of stock or water.
Bring to a boil, reduce heat, cover and simmer until tender – around 25 minutes, garnish with fresh coriander
Roasted Pepper/ Salt
I am currently experimenting with "Mui tio" roasted salt pepper spice mixture flavoured with garlic from rural Vietnam close to the Cambodian border. Roasted pepper salt is seen rarely seen in South East Asia and this example is particularly pungent and has a captivating aroma.

This spice has proved delicious when used as a dry rub for meat and fish dishes. Recently at home in Santa Barbara Cal, I made west coast Snapper filets with nothing more than the spice liberally spread on the fish with pinches of Spanish Smoked Paprika, aromatic Vietnamese black pepper, Vietnamese sea salt, a pinch of butter, and a squeeze of fresh Meyer lemon.

Check back later for more information on this enticing new product.

Executive Chef Oyvind at Nobu in the InterContinental Hong Kong describes it as having a huge "umami," the difficult-to-define quality that makes soy sauce so effective a seasoning and Parmigiano cheese so perfectly rich and satisfying.

With questions on products, recipes or a future order, contact us at mark@foodhuntermark.com