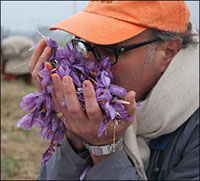 Mark enjoying the Saffron flowers in the fields of Kashmir
Photography by Rolf Lambert and
Bernd Ghirrbach of Along Mekong Productions
Image Copyright AMP, Along Mekong Productions,
Heidelberg, Germany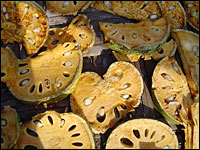 Dried bael fruit, Matum
On the hunt with Mark Brownstein
Mark Brownstein is a pioneer: a latter-day explorer, who scours remote corners of the world in pursuit of culinary curiosities. Driven by a relentlessly discriminating appetite and an infectious enthusiasm for everything edible, he established the California and Asia Trading Co. in Hong Kong more than a decade ago to deliver new, exciting ingredients to chefs at the top of their profession. Now Mark's niche gourmet business has grabbed media attention, with German TV company 'Along Mekong Productions" capturing his exploits on film. Their pilot Profession: Food Hunter, Out for Asia's Culinary Treasures has been so well received that a new series, taking in India, Cambodia and northern Vietnam, is already in the pipeline.
Mark's odyssey has its roots in the fertile, golden state of California, where he grew up among vineyards, date palms, and orange groves. An intense interest in the natural world led him to UCLA's School of Landscape Architecture. After establishing and operating a successful practice sculpting the grounds of Hollywood's high flyers – one memorable commission consisting of creating an entirely edible garden – Mark finally got itchy feet.
Soon after, he had an office in Hong Kong and a business importing boutique wine and specialist food items from the US. Ironically, in his exploration of Asia, Mark found he was collecting more than he could sell. The small HQ of California and Asia Trading Co. began filling up with unscheduled treasures, many of these are "wild foods" such as kai pen — a river weed sheet from Laos, Mah ken — the highland peppercorn, along with the processed khao kiep — wild mountain lime honey, and dried bael fruit – culinary gems he couldn't resist showing to his clients in hotels and restaurants.
Chefs thrive on creativity; ingredients are their inspiration. It soon became obvious that there was a demand for these obscure products. Mark arranged regular supplies and reliable logistics so that customer demand could be met. This was often difficult, as no organized industry existed. But the new trade put much appreciated money directly into the pockets of producers. Although small in scale and devoted to 'Slow Food' principles the company is a serious business with a profit motive. Clients include such great chefs as Chefs Thomas Kammeier of Hugo's, Intercontinental Berlin, Mario Caramella Grand Hyatt Bali, Chef John Pettitt of the Cadiz, Santa Barbara ca.

Mark sees a bright future for his Food Hunter enterprise. He has learnt that there are plenty of delicious things to eat hidden away in Asia, Australasia and Europe.
All he has to do is locate their source and rescue them from obscurity. The world is Mark's oyster. There are discoveries to be made on every continent and he is always eager to hunt them down…and eat them.